AGGREGATE & QUARRY ASSOCIATION
The industry sponsored MIMICO Environment & Community Award annually recognises and celebrates the quarry industry's care for the environment and community. The award acknowledges the excellent and diverse range of projects undertaken by AQA members.
MIMICO is a well-respected Waikato company that sells, hires and services heavy machinery; it shares the AQA's commitment to encouraging environmental excellence.
Does your company have an initiative that protects the environment and / or supports a community?
$3,000 prize up for grabs
Whether it's a big or small project, you should consider entering
If you are doing your bit for the environment – let us know
It's easy to do – just complete the one-page entry form and get the General Manager or CEO to sign it off
All finalists will receive publicity including written material, promotion at the QuarryNZ conference that year as well as feature on the AQA website.
MIMICO 2023 AWARD WINNER – Fulton Hogan
Wayne Scott, MIMICO Award judge, said Fulton Hogan won through due to the scale of this ecological project to establish fish passage between water course adjoining Willowbank Quarry.
Inheriting a partly constructed but non-operational fish ramp from the previous operators of the site, Fulton Hogan redesigned and constructed the fish ramp that drops down 25m over 90m to enable fish passage from a stream below the quarry to the upper catchment areas on the Willowbank farm.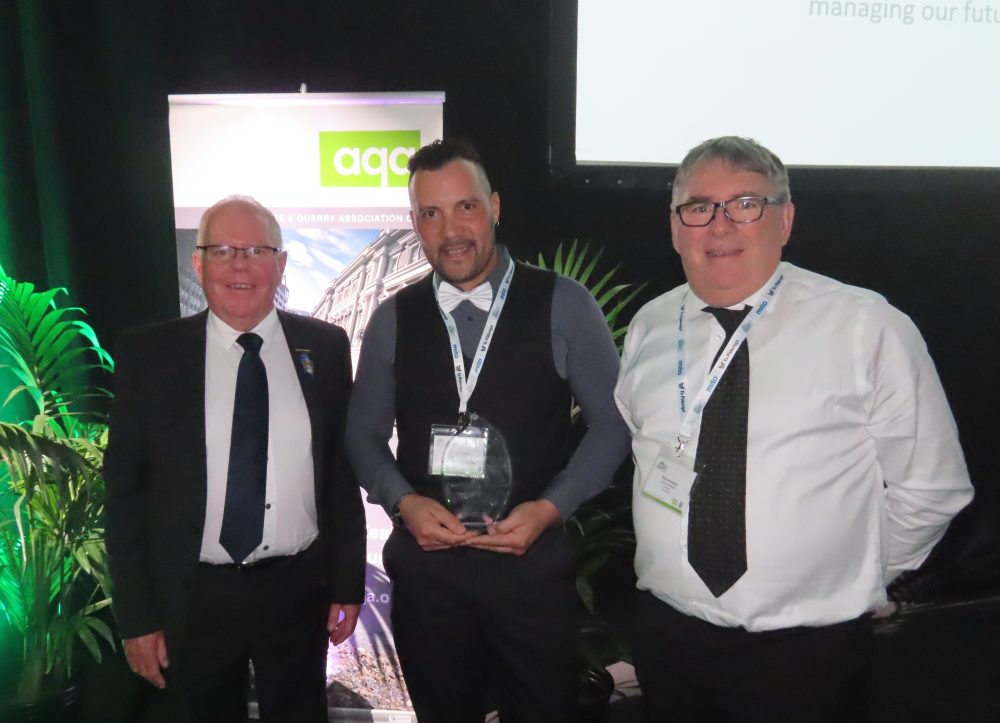 Left to right: Wayne Scott (AQA CEO) with Shane Hagai and Phill Houben (Fulton Hogan)..
See 2023 entries here.
ABOUT QUARRYING IN NEW ZEALAND
USING AGGREGATE
Aggregates are the most consumed bulk product in the world after water. New Zealand uses 9-10 tonnes of aggregate every year for each adult and child.
BUILDING NZ
To build an average house, you need about 250 tonnes of aggregate - for use in concrete, asphalt, mortar and building products.
OUR COMMUNITY
The quarry industry is committed to working alongside local communities and follows stringent planning, environmental and operating conditions.