AGGREGATE & QUARRY ASSOCIATION
Every year the QuarryNZ Conference holds an Awards night to celebrate success across the Industry.
MIMICO ENVIRONMENT & COMMUNITY AWARD
The industry sponsored MIMICO Environmental & Community Award annually recognises excellence within the aggregate industry for outstanding examples of environmental effects mitigation, rehabilitation, positive community engagement, emissions reduction, or other environmental work.
2022 MIMICO Award Winner – Winstone Aggregates

Wayne Scott, MIMICO Award judge, said Winstone Aggregates won through doing the first Environmental Product Declaration (EPD) for aggregate and sand products in New Zealand.
In February 2022 Winstone Aggregates released their first EPD for aggregate and sand products, which covers the embodied carbon of products from eight quarries across the North Island. To be a sustainable business means to operate in a way that is protective of people, our community, the environment, and the economy. The EPD does this by focusing on five key workstreams; social, biodiversity, water, waste and carbon reduction.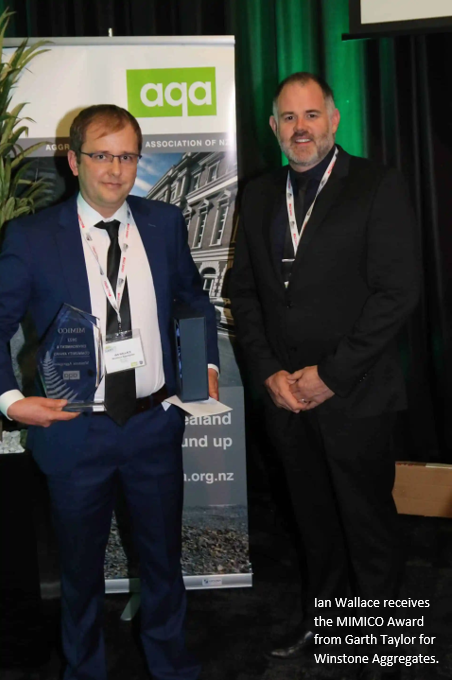 See 2022 entries here and past MIMICO Award winners here.
Full details of the MIMICO award criteria can be found in the MIMICO Environment & Community Award brochure.
The Institute of Quarrying NZ Awards are a conference highlight and amongst others, cover categories including:
Winstone Aggregates Safety Award – judged on who is best meeting a wide range of H & S criteria
Southern Cross Engineering – Roctech Innovation Award – $3,500 award for someone to develop innovations that can assist quarrying
Lyn Jordan Memorial Trophy for best technical paper
BR Webster Family Educational Scholarship – towards tertiary or practical learning studies
WorkSafe Chief Inspector Safety Leadership Award
Entries are required by May 31 each year, other than Winstones Safety Award which needs to be in by April 20 each year. Any IOQ member can nominate another IOQ member. Nominations should include some background information about the person: current job description, a mini version CV. Entries to ioq@xtra.co.nz and details on IOQ website
NZ QUARRYING AND MINING AWARDS
These awards from Q+M magazine recognise upcoming leaders in the quarrying sector. As many as several people have won an award in one year, which recognises "future leaders." They are each provided with a certificate and $1000 each. If you have a someone showing talent in your quarry, email a brief CV and outline of the person's achievements and qualities to Q+M Editor Alan Titchall – alan@contrafed.co.nz by May 31 each year.
Read here for more information on the 2019 Award winners.
ABOUT QUARRYING IN NEW ZEALAND
USING AGGREGATE
Aggregates are the most consumed bulk product in the world after water. New Zealand uses 9-10 tonnes of aggregate every year for each adult and child.
BUILDING NZ
To build an average house, you need about 250 tonnes of aggregate - for use in concrete, asphalt, mortar and building products.
OUR COMMUNITY
The quarry industry is committed to working alongside local communities and follows stringent planning, environmental and operating conditions.
AFFILIATED ORGANISATIONS