Pupils from schools in Oamaru and Pukekohe are this year's winners in the Rock our Future competition.
AQA CEO Wayne Scott says the competition's third year required school students to write an essay describing their experiences at a quarry and what they learned.
"We got some great responses from schools around the country. I'm particularly pleased at how much quarries are embracing this as a good way to engage with the next generation and their local communities."
Students from Years 5-8 were encouraged to visit a local quarry and write an essay of no more than 500 words describing their experience and what they learnt during the visit. There were individual $100 cash prizes across each year category and $1,000 for their school.
Pupils from Puni School, 5km west of Pukekohe, took out the Year 5 prize (Darian Morrow) and Year 6 (Isla Smith).

Puni School children were hosted at the Drury Quarry by Stevenson Aggregates staff.
There were no Year 7 entries this year but the Year 8 winner was Olivia Morriss from Oamaru Intermediate. Parkside Quarry, the source of Oamaru stone for more than a century, hosted Oamaru Intermediate's quarry visit.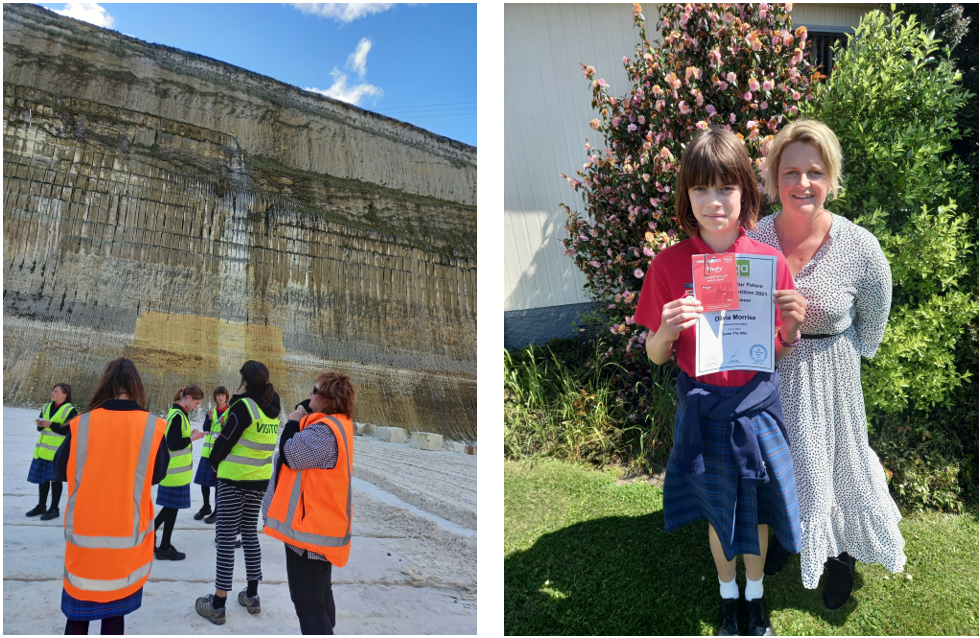 Oamaru Intermediate's visit to Parkside Quarry.                                            Olivia Morriss with Principal Rebecca Burke.
Wayne Scott says the 2022 Rock our Future competition will task students with designing a poster up to A3 in size. The poster must include an activity at a quarry, why the quarry is needed, and benefits the quarry provides to the community. More details of the competition can be found on the Rock Our Future page.